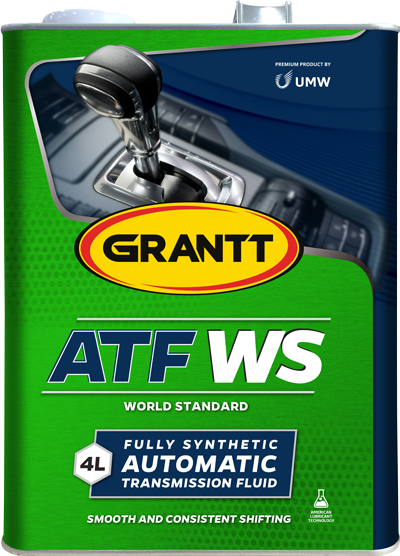 GRANTT ATF WS
PRODUCT DESCRIPTION
GRANTT ATF WS is a fully synthetic transmission oil, specially designed with low viscosity formulation and balanced frictional properties to deliver excellent anti-shudder performance and smoother shifting. It has been tested for use in a wide range of modern Asian, North American and European vehicles. Also, it exceeds the requirements of JASO 1A-LV performance.
BENEFITS
Extended friction durability to provide better anti-shudder performance and consistent shift performance for life of the vehicle.
Excellent extreme pressure and anti-wear performance at lower viscosity grade for better protection of transmission .
Superior oxidative stability for longer fluid life and extended service interval.
Superb seal compatibility for better leakage prevention .
PERFORMANCE STANDARD
• JASO 1A –LV • Toyota ATF WS • Honda DW-1 • Mitsubishi DiaQueen J3 • Mazda ATF FZ • Nissan Matic Fluid S • Hyundai/ Kia SP-IV, Hyundai/ Kia SP-IV M (SP4-M), Hyundai/ Kia SP-IV-RR, Hyundai/ Kia 040000C90SG • GM Dexron VI • Ford Mercon SP, LV • BMW MINI • Chrysler/ Dodge/ Jeep 68043742AA • GM/ GMC/ Opel/ Saturn (AW1/ 88863400/ 88863401) • Jaguar ATF 3403 JLM20238/ ATF 3403 M115/ ATF LT71141/ ZF 5HP24 • Saab 93 165 147 • Volkswagen/ Audi G 055 005 (A/A2), G 055 540 (A2) • ZF 6 Speed Transmission
PACK SIZE