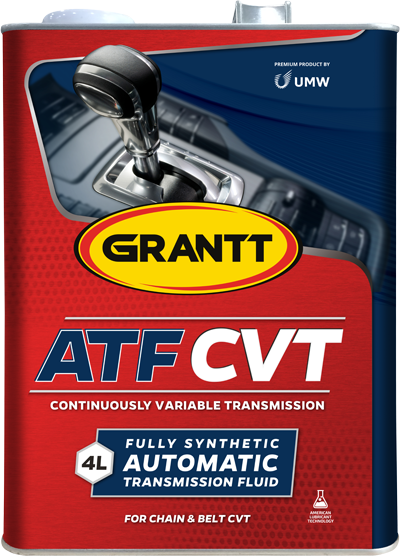 GRANTT ATF CVT
PRODUCT DESCRIPTION
GRANTT ATF CVT, formulated with specialized friction characteristics additive and premium full synthetic base oil, is designed to meet and exceed the performance requirements of a wide variety of vehicles equipped with push-belt and chain Continuously Variable Transmissions (CVTs). Its superior technology helps to improve transmission efficiency, smoother drive, leading to longer transmission life.
BENEFITS
Provides strong oil film / good shear stability and maintain oil pressure in the CVT system.
Excellent anti-shudder durability performance helps to improve driving comfort.
Good steel-to-steel frictional properties to prevent belt and chain slipping thus help to extend transmission life.
Excellent extreme pressure and anti-wear performance for longer transmission life.
Superior high temperature protection to effectively resist oxidation.
PERFORMANCE STANDARD
• Toyota CVTF (TC / FE) • Mitsubishi CVTF-J1 / J4 / J4+ / SP-III • Mazda JWS 3320 • Nissan NS-1, NS-2, NS-3 • Hyundai / Kia (SP-III/J1) • Suzuki (TC / NS-2 / CVT Green 1 / Green 1V / 3320) • Daihatsu AMMIX CVTF DFE / DC / DFC / TC) • Idemitsu CVTS-EX1 • Subaru (iCVT / iCVT FG / ECVT / NS-2 / Lineartronic CVT / CVT II / HT) • GM / Saturn (DEX-CVT) • Mini Cooper EZL 799 / EZL 799A / ZF CVT V1 • Audi / VW (TL 52180 , G 052180 / TL 52116 , G 052116) • Audi Multitronic • Dodge / Jeep (NS-2 / CVTF+4) • BMW Mini Cooper EZL 799/799A • Punch CVT • Shell Green 1V • Honda HCF2 / HMMF (without starting clutch) / Honda Z-1 (CVT model, without starting clutch). Not suitable for 2001-2007 Honda Fit & Jazz*Not recommended for Hybrid CVT unit (Toyota & Ford) -DCT Application
PACK SIZE