HOW TO IDENTIFY QUALITY MOTOR OIL
When choosing oil for your vehicle, you should always look or ask for API-licensed oil. API has made it easy to find these oils: licensed oils display one or both of the API motor oil quality marks – the API Service Symbol "Donut" and the Certification Mark "Starburst."
Oils displaying these marks meet performance requirements set by U.S. and international vehicle and engine manufacturers and the lubricant industry. More than 500 companies worldwide participate in this voluntary program which is backed by a marketplace sampling and testing program.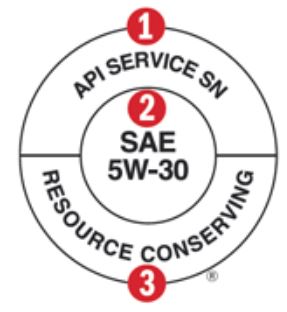 API SERVICE SYMBOL "DONUT"
The API "Donut" identifies oils that meet current API engine oil standards. It includes the SAE viscosity grade of the oil, API standards met by the oil, and other important performance parameters.
1. PERFORMANCE LEVEL
Gasoline engine oil categories (for cars, vans, and light trucks with gasoline engines): Oils designed for gasoline engine service fall under API's "S" (service) categories. Diesel motor oil categories (for heavy-duty trucks and vehicles with diesel engines): Oils designed for diesel-engine service fall under API's "C" (Commercial) categories.
2. VISCOSITY GRADE
The measure of an oil's ability to flow at certain temperatures. Vehicle requirements may vary. Follow your vehicle manufacturer's recommendation on SAE oil viscosity.
3. RESOURCE CONSERVING or ENERGY CONSERVING
These designations apply to oils intended for gasoline-engine cars, vans, and light trucks. Widespread use of "Resource Conserving" or "Energy Conserving" oils may result in an overall savings of fuel.
API CERTIFICATION MARK "STARBURST"
The API "Starburst" signifies oils which meet the latest International Lubricant Specification Advisory Committee (ILSAC) standard. The ILSAC standards are developed by vehicle and engine manufacturers, oil and additive companies and industry trade associations such as API, ACC, ASTM and SAE. These oils provide engine protection while also delivering improved fuel economy and emission system protection.