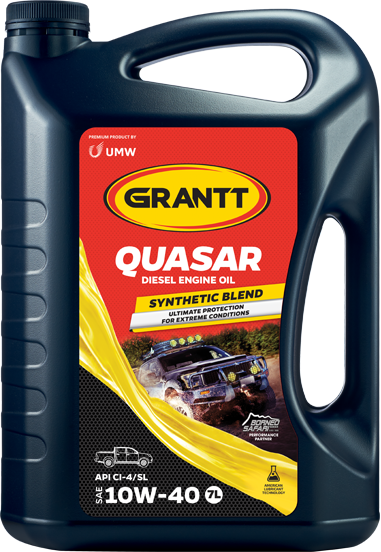 QUASAR SAE 10W-40 (API CI-4/SL)
PRODUCT DESCRIPTION
Grantt Quasar SAE 10W-40 is a synthetic blend diesel engine oil, specially formulated to fulfill the application needs of trucks, fleets and machineries operating in various conditions. With this new breakthrough technology, Grantt Quasar SAE 10W-40 is able to deliver outstanding protection from engine wear, maintaining engine power over a longer oil drain interval in most extreme conditions and protecting the Exhaust Gas Recirculation (EGR) in low emission engine. Ideal for four-wheel drives (4WD), sport utility vehicles (SUVs), light-heavy duty trucks and heavy duty machineries and equipment in construction, mining and agriculture.
BENEFITS
Superior wear protection and engine cleanliness due to excellent soot control.
Excellent Oxidation Control and Nitration Resistance for longer engine oil life.
Ultimate protection to bearing, ring or liner.
GRADE
SPECIFICATIONS
• API CI-4/SL • ACEA E7 • MAN M3275 • MB 228.3 • Volvo VDS-3 • Deutz III • MTU 2.0 • Mack EO-M+ • Mack EO-N • JASO DH-1 • Caterpillar ECF-2, ECF-1a • Cummins CES 20077/20078 • Renault RLD-2 • Global DHD-1 • DDC 93K215
PACK SIZE