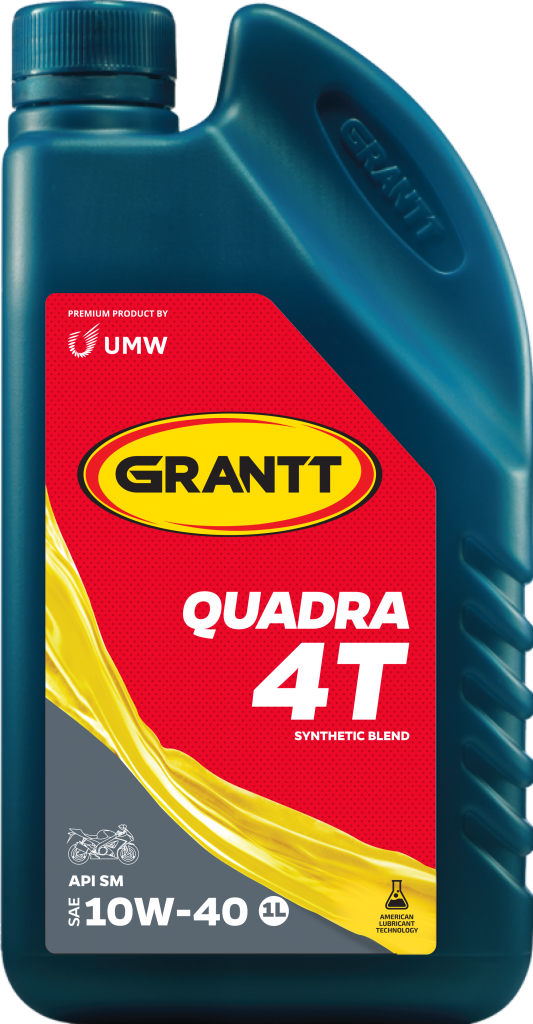 QUADRA 4T SAE 10W-40
PRODUCT DESCRIPTION
GRANTT QUADRA 4T SAE 10W-40 is a premium synthetic blend oil designed for four-stroke motorcycle engine oils. Formulated with the advanced additive technology to provide better clutch performance and smoother gear changes even under the most extreme temperatures in high-speed riding conditions. Enhanced with selected synthetic hydrocarbon base oils and special oil formulation to keep oil viscosity in grade for longer. This oil is developed to deliver ultimate engine cleanliness and wear protection by removing sludge and engine deposits thus helps prolong engine life.
BENEFITS
Optimized wet-clutch performance by reducing excess heat and friction.
Excellent detergency to provide reliable protection, cleanliness and smoother-running engine.
Reliable thermal and shear resistance to prevent oil thickening and piston deposits under high temperature conditions.
Helps prolong engine life.
GRADE
SPECIFICATIONS
PACK SIZE