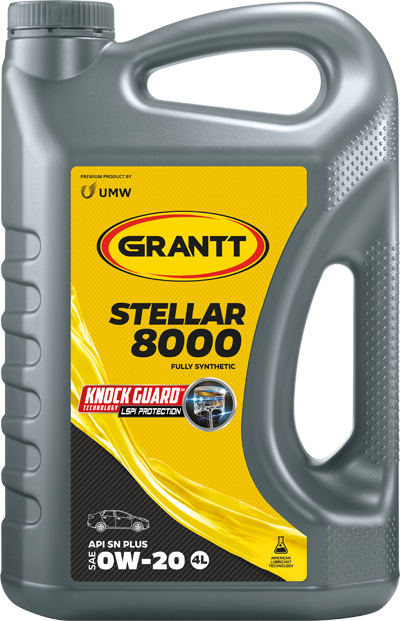 STELLAR 8000 SAE 0W-20
PRODUCT DESCRIPTION
GRANTT STELLAR 8000 SAE 0W-20 is a fully synthetic motor oil designed with KNOCK GUARD™ Technology that meets the latest API SN PLUS and ILSAC GF-5 specifications to address concerns about Low Speed Pre-Ignition (LSPI) in a growing fleet of turbocharged vehicles, emission protection and fuel efficiency improvement.
BENEFITS
KNOCK GUARD™ Technology provides protection against LSPI in GDI/ TGDI engine.
Outstanding wear protection to control sludge and varnish in a wide range of operating conditions.
Advanced dispersant and detergent system that improve engine and piston cleanliness.
Excellent antioxidant system to control oil thickening throughout the oil drain interval.
Ultimate protection during cold engine start-up.
Superb fuel economy performance.
Robust protection on catalyst in emission system.
GRADE
SPECIFICATIONS
PACK SIZE