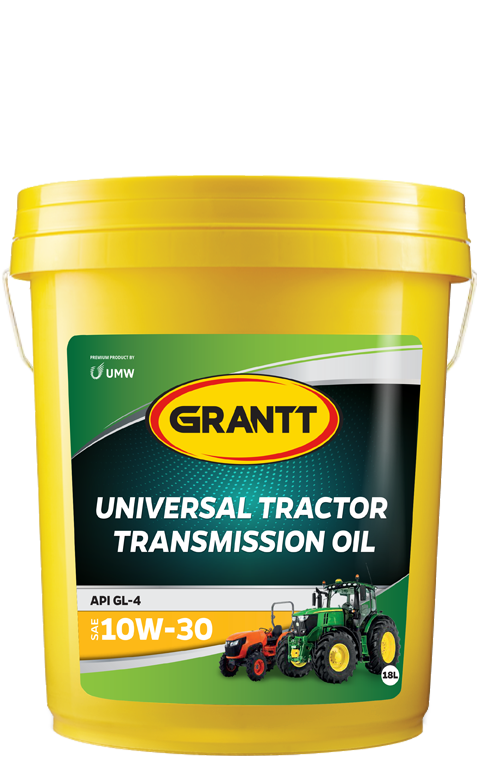 UTTO SAE 10W-30
PRODUCT DESCRIPTION
GRANTT Universal Tractor Transmission Oil (UTTO) SAE 10W-30 is engineered to meet tough demands of transmission, differentials, hydraulic system in agricultural, construction and industrial equipment covering applications that have wet brakes, hydraulics and advanced transmissions. A well-balanced formulation with durable viscosity modifier additives and pour point depressant preparing the fluids to deliver superior gear performance, chatter suppression, hydraulic pump and low temperature performance.
BENEFITS
Outstanding wear protection to provide protection from scoring and gear wear under all load conditions.
Superb formulation effectively suppresses wet brake chatter.
Excellent viscosity control over a wide operating temperature range. A high viscosity index to maintain its lubricity at high and low operating to improve equipment operation and wear protection.
Low foaming tendency and good seal compatibility.
GRADE
SPECIFICATIONS
• API GL-4 • Allison C-4 • Caterpillar TO-2 • CASE MS 1210, CASE 1207 • Kubota UDT Fluid • Case New Holland: CNH MAT3505, CNH MAT3509 • Ford: ESN-M2C86-B, ESN-M2C86-C, ESN-M2C134-D • FNHA-2-C-200.00, FNHA-2-C-201.00 • John Deere:J20C,J20D • Massey Ferguson: M1135, M1141, M1143 • VCE WB 101 • ZFTE-ML 03E, 05F, 06K • Renk Doromat 874B • Fiat Hesson Multi G • Denison HF-2 • Sperry Vickers I-286-S • Deutz Allis 272843, 257541, 246634 • White Farm Q1826
PACK SIZE